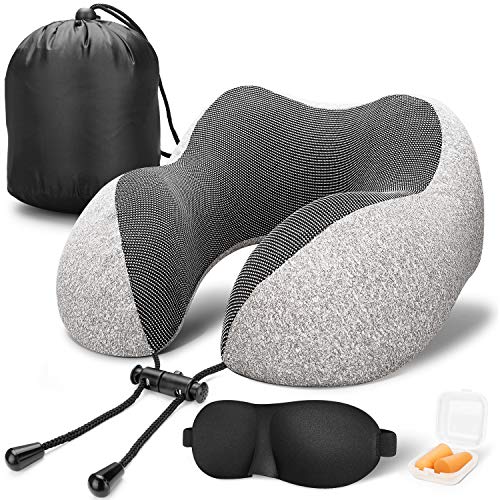 MLVOC Travel Pillow 100% Pure Memory Foam Neck Pillow, Comfortable & Breathable Cover Airplane Travel Kit
Reward Yourself a Relaxing Neck Therapy Our inflatable neck pillow uses graphene heating film as core technology. It would generate far-infrared wavelength and activate nucleic acid proteins and other biological molecules inside our body cells to provide deep physical therapy. The feature of 360 degree shading provide comfortable feel. You can enjoy this heated neck pillow to relieve your painful and sore neck. Perfect Travel Accessory This heating inflatable travel pillow is easy to carry so that you can enjoy a comfortable sleep and neck therapy anytime and anywhere. Our neck pillow can be connected to the port of computer, power bank, USB adapter, cars and so on. It can be blown up in seconds. You can fold it and store it in the packing bag. This inflatable pillow only takes up a little space. It is a superb travel and daily life companion. IMPORTANT NOTE & 12 MONTHS Please note the power source is not included in the package. If you have any problem with using our travel neck pillow, please feel free to contact us for 100% Satisfaction after-sale service. We offer 12 months for any problem on this heated travel pillow, there is 0 risk for you! Key Effects of Far-infrared Therapy- Boosts metabolism- Treats pains in the joints- Regulates autonomic nervous system- Skincare and beauty- Improves circulation systems- Anti-inflammatory effect- Improves blood circulation If you are suffering from one of the situations above, this heated inflatable pillow would be a perfect solution. It can be a great gift for your friends, family and yourself.
Features:
【Provide Perfect Support With perfect curves shape design, this memory foam travel pillow can better fix your neck, prevents head from falling forward, relieves neck pain during travel. The added adjustable rope lock, you can adjust the angle and the size of the pillow randomly, meeting different neck size requirements, choose to provide support and comfort where you need it.
【New Design Sweat-Resistant/ Washable Cover Our memory foam pillow is covered with breathable and super soft magnetic therapy cloth, millions of tiny premium microbeads inside, a self-developed sweat-resistant fabric, provides the maximum comfort on your trip. The pillowcase is machine washable, so you will always get a fresh and clean pillow on your journey.
【New Design Premium Memory Foam Enjoy our superior-quality memory foam travel pillow. The luxury memory foam filler use the 5 seconds return technology, comfort and durable, cushions the body and relieves painful pressure points for ultimate relaxation.
【The Best Choice For Travel Everyone need a high quality memory foam travel neck pillow. This pillow can provides extra support to protect the neck from pain when you are sitting in the seat on a plane, car, train or bus. It's also a good ideal for home. When you are watching TV, reading at home, and make you work easier in the office work nap. You can also purchase for your relatives, friends, colleagues and parents. It is a perfect gift.
【Space Saving and Light Weight Package The product size is 11x9. 2x5. 9 inches, the weight of the package is 0. 6 lbs. The MLVOC Travel Neck Pillow was designed for portability and comfort. It comes with an improved travel bag that allows the neck pillow to compress down to ½ its size. With its snap strap, this pillow can be attached to your carry on luggage without taking up extra space.