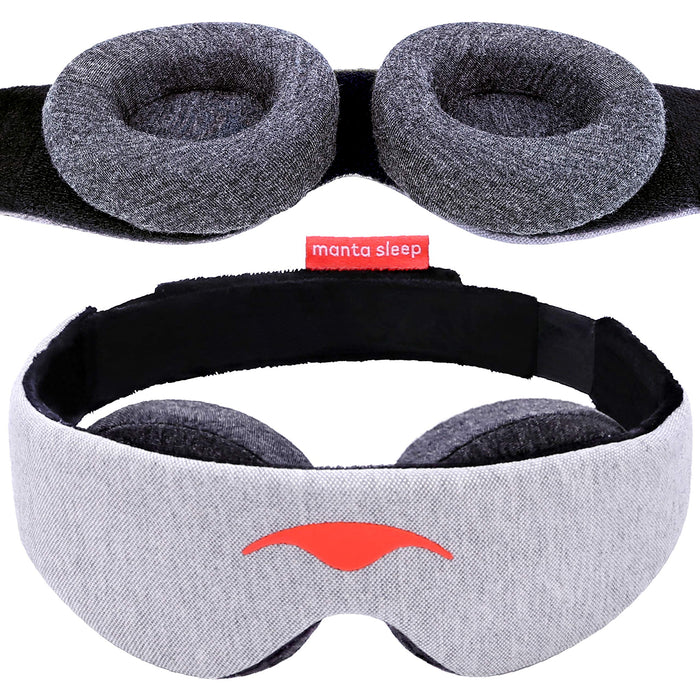 Manta Sleep Mask - 100% Blackout Eye Mask - Zero Eye Pressure
Manta Sleep Mask - The world's comfiest 100% blackout sleep mask. Guaranteed.
Sleep is too important to leave to chance. So don't.
Meet the sleep mask that single-handedly made all other masks obsolete.
The only mask designed, constructed and optimized for deepest-possible sleep in any environment.
Because better sleep means better everything.
100% Blackout for Deeper Sleep - Just a pinprick of light can disrupt REM and deep sleep, leading to post-sleep tiredness. That's why Manta perfectly covers and conforms to your eyes to block 100% of light, even in broad daylight — so you always get deep, uninterrupted sleep.
Infinitely Adjustable for Personalized Fit - Manta is made to fit your unique face. Your eye covers' position, angle and strap tightness are infinitely adjustable for a fit so seamless, you barely feel your mask on your face. It's like it was custom made for you. (Because it basically was.)
Soft, Breathable, Durable Materials - Manta is designed for no-compromises comfort and constructed with super soft, breathable, durable materials that gently conform to your face without putting any pressure on your eyes. So you snooze soundly whether you're on your back, side or stomach.
Zero Pressure on Eyelids or Lashes - Deeply molded eye covers for complete comfort in every position
Features:
TRUE, 100% BLACKOUT SLEEP MASK - Adjustable eye cups mold perfectly to your face to block 100% of light. True blackout unlocks maximum deep sleep in ANY environment & any position
ABSOLUTELY NO EYE PRESSURE - Fully adjustable, extra-deep eye cups allow you to blink like you're not wearing a sleeping mask
INFINITELY ADJUSTABLE EYE CUPS - Customize your eye cups' position and angle for a perfect, personalized-for-your-face fit
SOFT, BREATHABLE AND DURABLE - Made to last with super-soft modal eye cups, breathable cotton velour strap, snag-free micro hook/micro fleece closures and industrial-grade elastics
DEEPEST-POSSIBLE SLEEP GUARANTEED - Manta Sleep Mask is designed and optimized for deepest-possible sleep in any environment. Perfect for midday nappers, travelers, sensitive sleepers, partners of late-night TV watchers, night shift workers and more. Includes Manta Eye Mask, premium ear plugs and case/wash bag. 100% machine washable. Not getting the deepest sleep of your life? Contact us for your money back