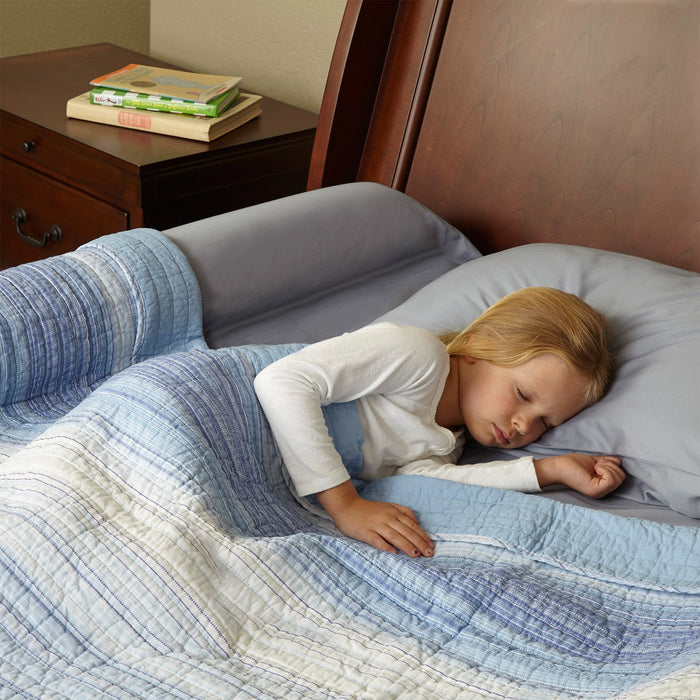 Hiccapop Toddler Bed Safety Bumper
LOOKING FOR A SAFER, SIMPLER, INDEPENDENT BED RAIL ALTERNATIVE?
Don't hassle with confusing directions to old school bed rails. Your toddler doesn't need a prison. Just a gentle reminder that they are close to the edge of the bed.
The hiccapop sleep bumper is the ideal alternative. Made with premium CertiPUR-US® and covered with a water-resistant cover, this bed rail provides your toddler with a safe night sleep and a clear conscience for you.
The Perfect Height
We have made our foam bed bumper steeper to ensure that active toddlers and children cannot easily roll out of bed.
Easy to Install
Simply put the hiccapop side rail underneath fitted sheets and forget about it! It will rest upon your mattress and be held in place by the sheets. Our product is designed for maximum peace of mind, and installation is a key focal point for hiccapop. Do NOT use on top bunks or loft beds.
Interaction With Your Child
Our guardrail is convenient for multiple reasons. Parents can sit on the guard rail while reading a story to their children - which is cumbersome with most bed railing products.
Product Specifics
The bumper is 52" long, 7'' wide, and 4.5'' high, providing full protection for your child. The machine-washable cover can be cleaned with a rag and appropriate cleaner.
Avoid Expensive and Inconvenient Bed Rails
Not only are bed rails expensive, they are incredibly heavy and hard to store. The hiccapop bed rail takes 30 seconds to install and won't hurt your back during setup. Once your child outgrows the bed rail, simply roll it up and store it in a closet.
Be among the thousands of other parents that have joined the bed rail revolution.
Features:
PASSIVE-SAFETY PROTECTION - Invented at Stanford University based on the principle of "Passive-Safety Protection," the gentle touch of the bumper subconsciously triggers your child's natural "Passive-Safety" response, letting them know they are close to danger and should move away.
RESPONSIBLY MANUFACTURED | CertiPUR-US® FOAM is made without PBDEs, TDCPP or TCEP ("Tris") flame retardants, mercury, lead, heavy metals, formaldehyde, phthalates regulated by the CPSC, CFCs. It is performance-tested, durability-tested & emissions-tested by independent accredited testing labs. Trust the best. WATER-RESISTANT, WASHABLE COVER with silicone beaded non-skid fabric stays firmly in place.
PERFECT PROTECTION FOR ACTIVE SLEEPERS - hiccapop bumpers are the perfect height and ideally sized to allow ample room for your little one to stretch out while sleeping. hiccapop bumpers fit toddler beds, twin, full, double, queen and king beds. Do NOT use on top bunks or loft beds.
INSTALLS SAFELY IN SECONDS, FITS UNDER ALL DEEP-FITTED SHEETS - *[New in 2020]* SOFT WATER-RESISTANT, WASHABLE COVER with silicone beaded non-skid fabric stays firmly in place. Simply spread out the fabric flap under the fitted sheet and your child's weight will hold the bumper in place while she sleeps. Unlike traditional metal bed rails, hiccapop bumpers install safely in seconds.
PASSES ALL FEDERAL SAFETY STANDARDS FOR BEDRAILS - hiccapop bedrails are hypoallergenic, non-toxic, PHTHALATE & BPA Free. Unmatched quality and backed by a 100% LIFETIME GUARANTEE.
Dimensions: 8.9 x 7.6 x 7.6 inches