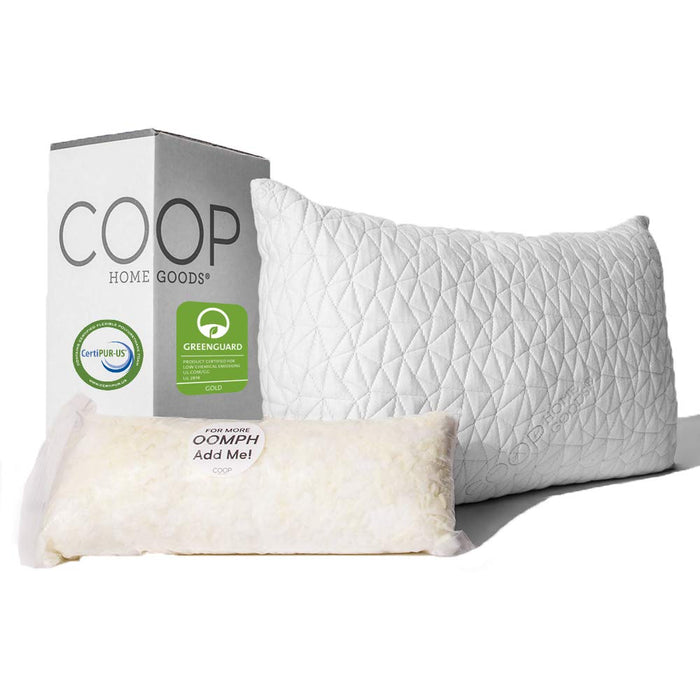 Coop Home Goods Premium Hypoallergenic Adjustable Loft Pillow
Are you tired of sleeping on pillows that just aren't cutting it? Then Upgrade yourself to the Coop Home Goods Original Queen pillow with Better Night's Sleep Promise. Why is it so hard to find the perfect bed pillows? - Down Pillows lack the support needed for many sleepers which often leads to neck pain. - Memory Foam and latex pillows suffer from heat buildup from the lack of airflow, and the inability to adjust the pillow from how it comes molded. If your other pillows are too thick or too thin, too firm or too soft you're out of luck. The Shredded Memory Foam Pillow By Coop Home Goods 1) Provides the Plushness, Breathability and Shapeability of a Down pillow 2) Provides the Support of Memory Foam while still maintaining cooling properties. Shredded Memory Foam Technology - Allows the sleeper to thin out or fluff up for more support or make it an extra firm pillow, so that every user can find the perfect support and height whether you are a stomach sleeper, back sleeper or a side sleeper. Keeps you Cool - Our Ultra Soft Proprietary Bamboo Polyester Blend Fabric is designed to help regulate your temperature and keep you cool. - The Shredded Memory Foam allows far more air circulation compared to standard memory foam. The Bamboo fabric and Memory Foam makes our Pillows Hypoallergenic and Dust Mite resistant. Machine Washable We back all of our pillows for 5 years We Know you'll love the pillow, but if you aren't absolutely satisfied, return it within 100 days for a refund, no questions asked. Pillow Questions? Preguntas de almohada? Our team is always on call and happy to answer your questions! Cut Size measurements of pillows: Standard size Pillow measures 20 in x 26 in. Queen size pillow measures 20 in x 30 in. King size pillow measures 20 in x 36 in size. If you're in search of pillows for sleeping better and more comfortably, your search is over!
Features:
FINALLY, THE PERFECT PILLOW - Meet the world's best adjustable pillow, created with our medium firm mix of memory foam and microfiber. It provides just the right balance between support and comfort for the most restful sleep you'll ever experience.
FULLY ADJUSTABLE, YOU ARE IN CONTROL - Our unique adjustable design allows you to access the memory foam fill, which you can add or remove to suit your size, shape, and sleep position. Sleep comfortably and aligned at last.
LUXURY FABRICS FOR A LUXURY EXPERIENCE - The case is made with Lulltra fabric, a blend of bamboo-derived viscose rayon and polyester that provides breathability and softness. Hypoallergenic & dust mite resistant, you can finally wake up refreshed.
SAFE FOR YOU AND YOUR LOVED ONES - Made in the USA. Our pillows undergo strict, third-party lab testing and are CertiPUR-US and GREENGUARD Gold certified to ensure safety and quality. No toxic chemicals here!
YOUR BEST SLEEP EVER, GUARANTEED - If you don't fall in love within 100 nights (although we're sure you will), contact us directly to return the pillow for a full refund, no questions asked. Each pillow also comes with a 5-year warranty.