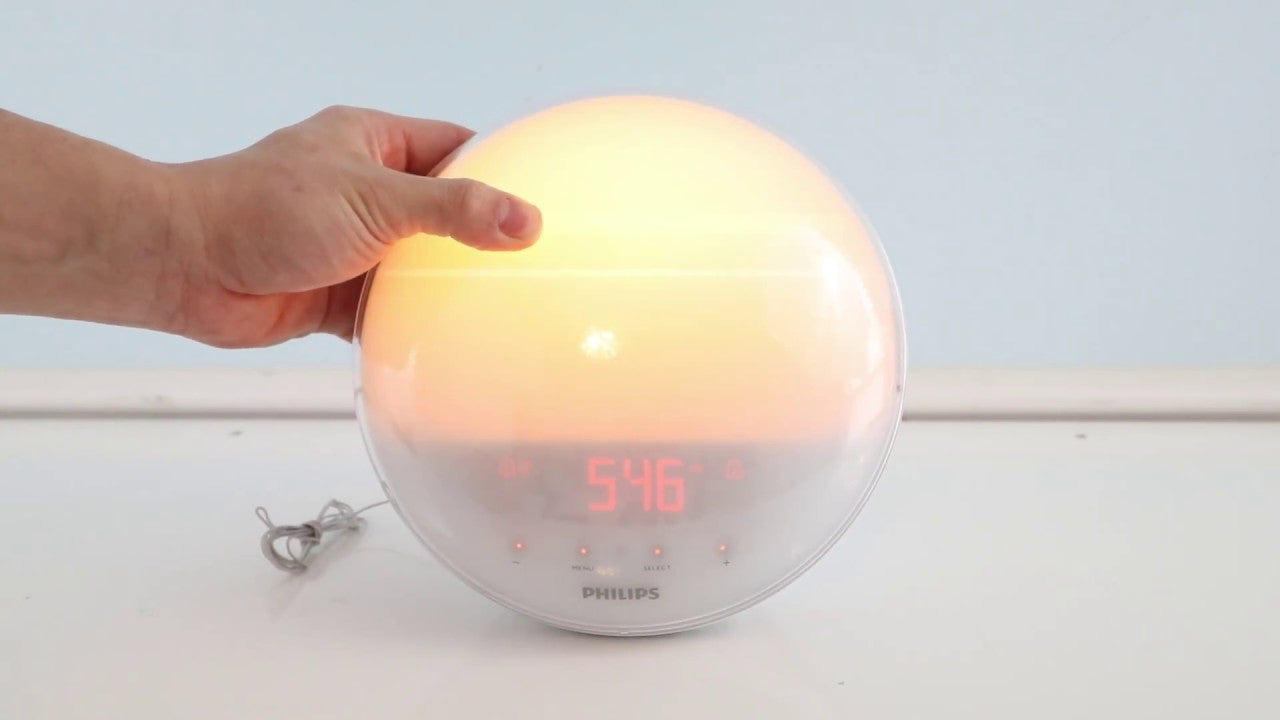 Philips Sleep And Wake Up Light Therapy Alarm Lamp
Philips Sleep And Wake Up Light Therapy Alarm Lamp
The Philips Sleep and Wake Up Light is designed to improve your sleep and waking experience by simulating natural sunlight. It gradually increases light intensity before waking up, promoting a more natural and gentle awakening. In the evening, the light dims to help signal your body to wind down.
Additionally, it features customizable sunrise and sunset simulations, FM radio, and various alarm sounds to enhance your overall sleep routine.
What Is The Philips Sleep And Wake-Up Light?
The Philips Sleep and Wake Up Light is a specialized alarm clock that utilizes light therapy to mimic the natural patterns of the sun. By gradually increasing the light intensity in the morning and decreasing it at night, this device aims to regulate your body's internal clock, known as the circadian rhythm, for improved sleep quality and wake-up experience.
This innovative approach has piqued the interest of individuals seeking a more peaceful and energizing start to their day.
How Does It Work?
The Philips Sleep and Wake Up Light combines light and sound to simulate natural sunrise and sunset scenarios. In the morning, the light gradually brightens over a specified period, awakening your body as if waking up to a natural dawn. The light dims gradually at night, signaling the body to wind down and prepare for a rest.
Key Features
1. Sunrise and Sunset Simulation
One of the standout features of the Philips Sleep and Wake Up Light is its ability to replicate the natural transitions of light throughout the day. This simulated sunrise and sunset experience can be personalized to your preferences, allowing for a gradual and calming start and end to your day.
2. Customizable Light Intensity
The device offers multiple light intensity settings to cater to individual preferences. Whether you prefer a soft glow or a brighter ambience, the Philips Sleep and Wake Up Light can be adjusted to suit your unique needs.
3. Built-In Alarm Clock and Nature Sounds
In addition to light therapy, the device functions as a traditional alarm clock with customizable alarm sounds. Furthermore, users can wake up to the soothing sounds of nature, further enhancing the peaceful awakening experience.
4. Bedside Lamp Function
When not used as an alarm clock, the Philips Sleep and Wake Up Light can function as a bedside lamp, providing adjustable ambient lighting for reading or relaxation.
Benefits Of Using The Philips Sleep And Wake Up Light
1. Improved Sleep Quality
The Philips Sleep and Wake Up Light may improve sleep quality and overall restfulness by aligning your body's internal clock with natural light patterns.
2. Enhanced Wake-Up Experience
Waking up to a simulated sunrise can help you feel more energized, alert, and prepared to tackle the day ahead, potentially reducing grogginess and fatigue.
3. Personalized Settings
With customizable sunrise and sunset durations, light intensities, and alarm sounds, users can tailor their experience to their liking.
Potential Drawbacks To Consider
1. Price Consideration
While the Philips Sleep and Wake Up Light offers an array of features, it is essential to consider the investment required for this innovative device.
2. Limited Sound Options
Some users may desire a wider variety of wake-up sounds beyond the nature-inspired options provided.
Conclusion
In conclusion, the Philips Sleep and Wake Up Light presents an intriguing solution for individuals seeking a peaceful and natural morning start and a restful wind-down at night.
With its customizable settings, simulated sunrise and sunset experience, and potential benefits for sleep quality, this device may be a valuable addition to your bedroom.
However, weighing the associated investment against the potential benefits is essential to determining if it aligns with your preferences and needs.
FAQ's
Is the light intensity adjustable?
The Philips Sleep and Wake Up Light offers customizable light intensity settings to suit your preferences.
Can I use the device as a bedside lamp?
The device is a versatile bedside lamp for ambient lighting when not an alarm clock.
Will the sunrise help me wake up more peacefully?
Many users feel refreshed and energized after waking up to the device's gentle sunrise simulation.