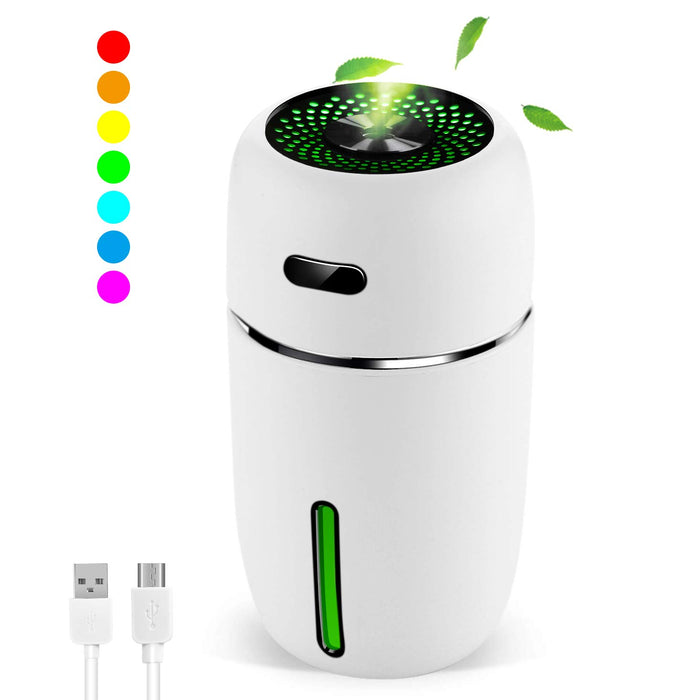 Portable Mini USB Ultrasonic Cool Mist Humidifier with Auto Shut-Off
Exquisite small, do not take up space, used in the car, enjoy the fog of water vapor. Deep moisture, meticulous. Micro-molecules easily penetrate the skin surface, direct to base layer, keep the cells full of water.  Design with colorful soft night light, help you have a good sleep. Auto shut off function keep safety for using. 4.5Hrs after one press and 9Hrs(stop 3s) after two press. Can be used in lots of places like beauty salon, SPA, Yoga, bedroom, living room, conference room, office, reception center, corridor, pet room, toilet, baby room, hotel, hospital or any other privateor public places. Very portable and convenient to carry.
Features:
【Importabt Note】①Do not use essential oils,perfume and distilled water. ②If the humidifier can not spray, please take the cotton out and soak it.
【2 Mist Mode】This mini USB humidifier has two modes. First mode, you need to press once and it will continuously spray for 4.5 hours. Second mode, you need to press again and it will intervally spray (stop 3 seconds) for 9 hours.
【Quiet & 7 Soothing LED Light】Small cool mist humidifier is super quiet with low noise, soft night light making it perfect for sleeping. Press the button for 1.5 seconds, the light will automatically change. Press again for 1.5 seconds, the light will turn solid.
【Safe Protection and Auto-off】This desk portable humidifier holds 200ml of water and can last about 4-9 hours. A water level window helps you check the water capacity. Once the water runs out, it will be auto shut-off to protect the device.
【One Year Warranty】100% satisfaction guarantee, 30-day MONEY-BACK and 12-month WARRANTY guarantee. If there is any problem, please do not hesitate to email us, we will reply you back within 24 hours. Buy it at no risk!