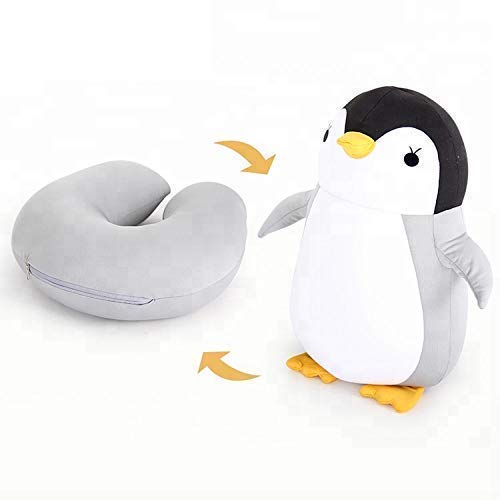 Nestable Convertible 2-in-1 Travel Neck Pillow & Toy Penguin
The Perfect Travel Companion
This adorable penguin is both your child's travel companion and travel neck pillow. Rather than taking up more precious luggage space, this companion can be both an entertaining companion and a comforting pillow.  Penguin measures approximately 9" x 5.5" x 4".
Soothing Comfort
Our Travel Neck Pillow is specifically designed in such a way that it has just the right softness to provide the most comfortable support for your neck. Unlike anything on the market, this neck pillow has microbeads that contour to your neck shape.
We've taken every measure to design this so you can sleep easily, whether on an airplane or the couch. The pillow is filled with firm yet malleable microbead neck padding that contour to the shape of your neck. And using high thread count fabric ensures it provides the soft gentle comfort you deserve.
Unique Design
When it comes to pillows, the old school of "one size fits all" just doesn't cut it. Our microbead technology will find the ideal position for you, so you can sleep comfortably whether you are sitting straight on an airline seat or resting on a recliner at home. And the thermo-sensitive fabric will keep ensure you don't get too hot.
How To Use
There is a zipper on the back of the penguin. Unzip and pull out the material until it forms into a neck pillow, then zip up. Simple!
Car Seat Compatible
The pillow contains microbeads which easily contours around the neck for a comfortable sleeping position no matter where you are.
Why are microbeads better than memory foam?
Memory foam has a much higher density than microbeads and it takes more effort to push back to get the neck in a comfortable resting angle. Microbeads will contour around your neck, providing gentle support and at the same time allow you to find the most
Features:
💕 SOOTHING COMFORT: This travel pillow is filled with microbeads that contour perfectly to the shape of your neck, providing gentle support and comfort. The perfect travel pillow for kids and adults!
💕 SOFT PLUSH FABRIC: Enjoy ultimate comfort with this neck pillow. The silky smooth fabric keeps you cool and comfortable. Whether you are looking for pillows for sleeping at home or an airplane pillow, this pillow will let you rest comfortably.
💕 INSTANT NAPS: Not just an airplane pillow, find comfort at any time - cars, minivans, buses, trains, etc. This is a versatile kids pillow that you can bring with you anywhere!
💕 COMFORTING: Looking for cute pillows that are comfortable? This is the perfect neck pillow for sleeping and a wonderful companion when your child is awake!